Working with influencers can allow brands access to real peoples lives
Client: Mike Warne Event 2018
1 March 2018
Topics: Media Event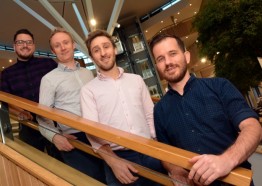 This was the message at this year's Mike Warne Event 'The Future of Influencer Marketing' on Wednesday 28 February 2018 at Bournemouth University (BU).
Speakers included Philip Brown, Head of Influencer Marketing & Brand Advocacy at Come Round; Louie Gatas, Digital Marketing Manager (EMEA) at Warner Bros; Jamie Spafford one of the founders of YouTube's most engaging cooking channel's, SORTEDfood. They were introduced by James Delves, Head of PR and Engagement at The Chartered Institute of Marketing (CIM). Under discussion was the value and future of focusing and engaging with a particular individual, or groups of individuals, as a marketing strategy to influence your ultimate target audience.
Philip Brown, Head of Influencer Marketing & Brand Advocacy at Come Round focuses on getting brands into the hands and homes of brand advocates and influencers. Philip commented; "We'll see influencer marketing turn more into a strategic long-term practice, where earned, paid and owned are combined to harness all layers of influence. Currently, most of what people are exposed to is smash & grab influencer advertising. Going forward, I have high hopes for it turning into something more integrated and strategic, pushing further than just a pay-to-play content creation technique."
Jamie Spafford, one of the founders of YouTube's SORTEDfood channel has helped build a global community of more than 2 million friends who love socialising around food, his role is looking after community, media and partner relationships. Jamie said: "If done properly, working with influencers can allow brands access to real people's lives unlike any other strategy - this isn't like advertising, you shouldn't be shoving your messages down someone's throat. You can be positioned as 'the enabler', helping people achieve the things they want to do, contextualising what your product/brand stands for in an authentic way that people will want to engage with".
The annual Mike Warne event honours the late CIM Regional Director, Mike Warne, who was a strong advocate of building relationships between aspiring marketing students and the CIM. It is organised by final year BA (HONS) Marketing Communications students, who always select a topical marketing discipline for exploration, analysis and discussion, with the support of CIM.
Pictured top to bottom: Jamie Spafford, James Delves, Philip Brown and Louie Gatas.