What every discerning dog wants under the Christmas tree 
Client: Milo & Pi Luxury Dog Beds
1 October 2019
Topics: luxury dog beds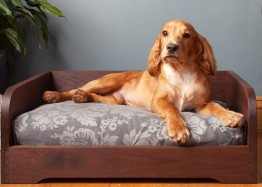 Beautiful canine furniture for your home, comfort and support for your dog
Milo & Pi heirloom, cabinetry dog bed surrounds are bespoke and hand made in Cornwall.
Choose from a range of beautiful woods, including Black Walnut (pictured), Oak, Maple, Ash or naturally fallen Cornish Beech. Each is fitted with a unique natural fibre mattress filled with organic lamb's wool and coir, plus natural latex or recycled denim to provide supreme canine comfort, support and ventilation to help reduce odours.
The natural fibre mattress is fitted with a robust washable protective ticking cover, together with a choice of decorative covers to complement your home interior. Milo & Pi's natural composition dog beds and mattresses are designed to breath, be cleaned, washed, refurbished and ultimately the mattress is completely recyclable.
Available in small, medium, tall medium and large sizes, each bed is handmade to order. Prices start from £949 for a small dog bed, hand crafted in Cornish Beech to £2,549 for this Black Walnut version. www.miloandpi.uk