Tourism marketing event will provide practical help and insights
event: CIM
1 October 2017
Topics: Event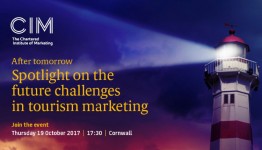 The Chartered Institute of Marketing (CIM) is shining a spotlight on how tourism and leisure marketers are meeting current, and can prepare for future marketing challenges at After tomorrow – spotlight on the future challenges in tourism marketing event being held at CCB's The Business Space in Launceston on Thursday 19 October.
As the tourism industry reflects on 2017's main season, accommodation providers and tourism operators are already planning their marketing campaigns for 2018. To help them fine tune and remain at the cutting edge of their discipline, CIM is bringing together marketing experts to give practical insight on current issues and share their marketing wisdom.
Topics include; practical insights into preparing for next year's General Data Protection Regulation (GDPR) with Charlotte Somers, Head of Marketing and Communications at Hall For Cornwall and
CIM's Maureen Wincott; emerging digital marketing disciplines with Alastair Banks, from digital agency, Optix Solutions based in Exeter.
Plus, a fascinating first-hand account on launching the new £19millon industrial heritage museum, Aerospace Bristol, that boasts the last Concorde ever to fly as its stunning centre piece, from its Marketing Manager and Tourism Ambassador CIM South West, Adam Jones.
GDPR comes into force in May 2018, it's the biggest shakeup in European data protection rules in 20 years and will have far reaching impacts on the way businesses and organisations can collect, store and use personal data. Charlotte Somers will discuss how Hall For Cornwall, the county's largest performance venue playing to audiences of 180,000 annually, is preparing its data operations to meet the new regulations.
Alastair Banks is an accomplished digital marketer and international speaker on the subject. He will be recounting what's 'hot' in digital marketing right now, and what is around to stay for the immediate future.
The evening event will also include an audience and panel discussion with invited guests. The compare for the evening is Susan Smith, Cornwall College marketing tutor and agency owner, and the event is being hosted by CCB, part of Cornwall College Group. CIM members and non-members are welcome with tickets starting from just £5. For the full programme and booking information please visit the website.