The hamilton broad stripe ribbon lamp shade collection
15 February 2018
Topics: Media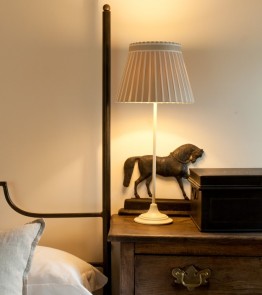 One of our most popular classic lamp shades which offers simplicity and neutral style. The Hamilton Broad lamp shade is available in pale gold and warm gray. These ribbons have warmth and can give any room a beautiful finish. The stripes are between half inch to one inch in width.
The lamp shades are available in six sizes to fit candle shades, table lamps, pendant ceiling lights and standard lamp bases.
This is a superb quality woven ribbon that will add warm texture and directional light to a side table, console or a dark corner . When lit they project an upward and downward directional light.
View and shop Hamilton Broad lamp shade collection from Bay Design