Skinners Brewery opens its doors to CIM
9 June 2016
Topics: Media Event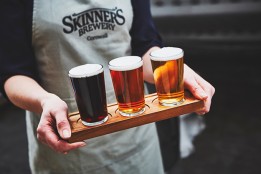 A pasty, pint, brewery tour, and the story of the Skinner's brand re-fresh
Skinner's brewery in Truro is opening its doors to CIM (The Chartered Institute of Marketing) members in Cornwall to explain its recent branding refresh over a pasty and a pint on 09 Thursday June at 7pm.
At the evening event, Steve Skinner, who founded Skinner's Brewery in 1997, will tell the brand's story to date, from its early days as a micro-brewery to its part in the vanguard of the brewing revolution. Last year, the brewery produced over four million and supplies to retailer and bars across the UK. Skinners was responsible for introducing new beer styles to the South West market, beginning with Cornish Knocker, a ground-breaking golden ale, and continuing with Betty Stogs, which CAMRA named as 'Britain's champion best bitter'.
Following a tour of the brewery, and over a pasty and a pint, marketing advisor Martin Williams from The Happy Seven, who undertook a marketing strategy review for Skinner's, will explain how the marketing process delivered the new branding. Martin comments: "Our review and research led us to propose new brand values and a differentiated positioning - distinct from other South West breweries, but which remained true to the Skinners roots, location, culture and ethos. Their sense of humour, bonhomie and community is the clearly defined heart of the organization, which the new branding reflects."
The new branding has been the result of an extended team of marketing and creative professionals, from business strategists, design and web agencies, illustrators, copy writers and photographers all working together to produce the final brand concepts that were launched this month (April 2016).
Stuart Hughes, sales manager at the brewery, said: "The response to the brand refresh has been overwhelming – universally positive, in fact, from buyers at national multiples to key distributors and West Country landlords. It's led to new and expanded listings both in bottle and cask, locally and nationally, and this is just the beginning."
CIM is the world's largest professional body for marketing; supporting, representing and developing marketers, teams, leaders and the profession as a whole. A group of CIM members in Cornwall came together nearly two years ago to organise more events across the county to stimulate knowledge sharing, skill development and networking for both CIM members and nonmembers working within marketing.
Martin adds: "The evening will include a brewery tour, and a pasty and a pint. It's a chance to learn about the rebranding process and the dynamic brewing industry from a company with a fascinating history. It also gives an opportunity to network with fellow marketers and business leaders."
Ticket prices start from £15. Find out more and book here:
https://www.cim.co.uk/eventbooking/?crid=76926