Move over Singapore Sling, the Sassy Smoking is The Eagle House Hotel's new signature cocktail
client: The Eagle House Hotel
22 August 2017
Topics: Media Event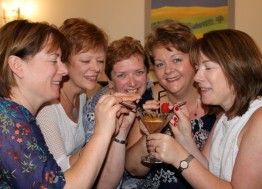 The aptly named 'Sassy Smoking Gin Cocktail' was created by a group of work friends from DS Smith and AutoSpray attending a Salcombe Gin tasting evening at The Eagle House Hotel on Wednesday night (16 August). The evening's activities included the opportunity for teams to devise, mix, decorate and name their own Salcombe Gin based cocktail.
The cocktails were judged by Salcombe Distilling Company's, Tom Litten and hotel proprietor Rebecca Perry. The winning taste sensation is now taking pride of place on the hotel's cocktail menu – with the proud mixologists Theresa Wakeham, Anne Olver, Karen Wiltshire, Annette Quinn and Rachel Williams promised a free weekly cocktail round.
The Eagle House Hotel was purchased by Mr William and Mrs Rebecca Perry earlier this year, and they have been lovingly restoring the beautiful Georgian building and hotel.
Mrs Perry commented, "We were delighted to host a Salcombe Gin tasting and our guests created some truly distinctive cocktails! But it was agreed The Sassy Smoking Gin Cocktail really hit the spot and is a worthy addition to our cocktail list."
Since the first bottle of Salcombe Gin's 'Start Point' was released in 2016 – the hand-crafted gin, blended with Dartmoor water, has won a Gold at the World Drinks Awards and most recently 3 stars in the Great Taste 2017 Awards.
The Eagle House Hotel's public lounge and bar is open daily from 11am for coffees, light lunches, afternoon teas, and of course cocktails. For further information