Luxury dog beds that are sustainable and eco-friendly drives business start-up
Client: Milo & Pi Luxury Dog Beds
1 June 2019
Topics: luxury dog beds sustainable eco friendly business start up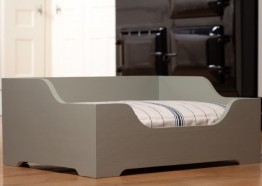 A luxury dog bed with a sustainable natural dog mattress to combact the problems of polyester batting dog mattresses ending up on landfill is the driving force behind new business start-up Milo and PI.
The mattresses filled with organic lamb's wool and coir, plus natural latex or recycled denim to provide supreme canine comfort, support and ventilation to help reduce odours has been developed in conjunction with Devon based Natural Mat company.
The beautiful cabinetry bed surrounds are hand made in Cornwall in Black Walnut, Oak, Maple, Ash. Naturally fallen Cornish Beech rescuded from becoming firewood, planked and ari dried over several years forms the basis of a solid Beech dog bed surround that can also be painted in your choice of Farrow & Ball finish.
The natural mattress is fitted with a robust washable ticking cover, together with a decorative cover to complement your home interior. Milo and Pi's natural composition dog beds and mattresses are designed to breath, be cleaned, washed and ultimately the mattresses are completely recyclable.
The driving force has been to develop an eco-friendly product, hand crafted in the West Country, that is sustainable. The result is beautiful pieces of canine furniture - or a dog bed for life - that has replaceable elements or is eventually recyclable.
Further information for editors is available from [email protected], tel: 01579 370093
(Pictured) Kensa dog bed surround in solid Cornish Beech, painted in Farrow & Ball Treron, modern eggshell, Decorative cover, Ian Mankin Regatta stripe in Black. Small size from £780 Small, medium, tall medium and large sizes are available, together with a bespoke service for larger dogs, and dogs that like to share. Available online www.miloandpi.uk