Immersive technology and the future of marketingTechnology
Event: Mike Warne Event 2017
2 March 2017
Topics: Event Media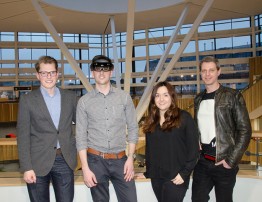 Over 200 professional marketers, innovators, business managers, marketing students and University staff attended this year's Mike Warne event, hosted by Bournemouth University (BU) on 1 March 2017.
This year's event focused on immersive technology and the future of marketing. Three industry leaders explored current industry trends, technological developments and shared their first-hand experience on how virtual reality (VR) and augmented reality (AR) is making inroads in education, training and marketing disciplines across a wide variety of industry sectors.
Accomplished design leader, writer, presenter and BBC tech pundit, Dean Johnson, Head of Innovation at Brandwidth, shared his thoughts on the future growth of immersive technology and how marketers can capitalise on its full potential. Dean was joined by 'rising PR star' of the tech industry, Cathy White, founder of CEW Communications and Michael Mallia Business Technologist and Innovation Lab Manager at LV= who demonstrated how the insurer is using the emerging technology to solve a variety of business problems.
The event is organised by BU's final year undergraduate BA marketing students and supported by The Chartered Institute of Marketing. The event is named in memory of Mike Warne, Regional Director of CIM in Dorset, and a passionate marketing professional who advocated the building of relationships between aspiring marketers, the wider business community and CIM.