GDPR - It's here to stay
25 April 2018
Topics: Blog Marketing GDPR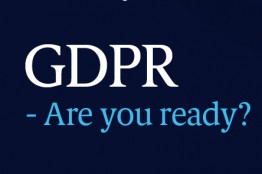 With just a month to go what can SMEs be doing to ensure their preparations are on schedule to meet the 25 May 2018 deadline and fit for purpose beyond?
"GDPR preparation doesn't end on 25 May 2018 – it requires ongoing effort" is the message from Information Commissioner, Elizabeth Denham she adds: "It's an evolutionary process for organisations – 25 May is the date the legislation takes effect but no business stands still. You will be expected to continue to identify and address emerging privacy and security risks in the weeks, months and years beyond May 2018. That said, there will be no 'grace' period – there has been two years to prepare and we will be regulating from this date."
For those SMEs struggling, the Information Commissioner's Office has published a set of online resources Getting ready for the GDPR resources including a guide to GDPR and a self-assessment toolkit. Additionally, there are FAQ sheets for smaller sector organisations and a dedicated advice line for people running small businesses or charities.
The Chartered Institute of Marketing (CIM) is running a wide range of training and information support services whatever size your business:
Webinar: Practical Insights: Are you ready for GDPR?
Are you ready for GDPR? No? It's not too late. In this Practical Insights live broadcast webinar with Duncan Smith, GDPR auditor and CIM course director on Monday 16 April 2018 13:00, Duncan will show you how to prioritise actions and put a GDPR strategy in place. CIM members will be able to access the webinar after this date on exchange.
e-learning: The Impact of GDPR is far reaching
CIM has partnered with e-learning specialists, Me Learning, and leading data security legal firm, Clayden Law, to develop a suite of online GDPR courses for a range of job roles. Taking around three hours to complete, you can efficiently train any number of staff at a low cost per person, with minimal disruption to their working day. So you can ensure everyone is prepared for 25 May 2018.
For more information and to discuss group discounts, call 01628 427360 or email [email protected].
One-day training course: Essential Guide to GDPR and ePR for Marketers
A one-day training course at Moor Hall with Duncan Smith is running across various dates until 02 October 2018.
Article written by Carolyn Daw for CIM Small Business Community