Exploring the convergence of marketing and PR
29 June 2018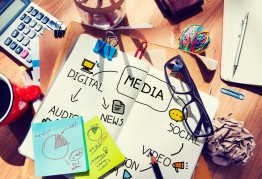 In June, I attended a CIM South West round table insight meeting at the offices of JBP in Bristol to discuss the convergence of marketing and PR disciplines.
Amongst a healthy, nearly 50:50 split of PR and marketing professionals the meet stimulated a healthy discussion on the role of PR and where it sat within a changing marketing framework with the rise of content, social media and influencer marketing.
Our host, JBP MD, Chris Lawrance posed the question; Has PR has become the new marketing, in an age of social media? Chris was not suggesting that PR was going to dominate in the new media world but that it now had the potential to perform a marketing role. Chris highlighted the fact that PRs can use their instinct for a good story and skills in digital and social media. As natural storytellers, PRs are well placed to enter the paid media arena through creating sponsored posts, using the back-end functionality of social media channels.
The 2017 Global Communications Report, the second collaborative research project between The Holmes Report and the USC Annenberg Center for Public Relations reported the continued convergence of marketing and public relations, stating it will have serious implications both for in-house corporate communications professionals and for PR agencies. The study polled more than 800 public relations executives from around the world.
Almost half (47%) of public relations professionals believe PR will be more closely aligned with marketing over the next five years, with an additional 6% saying PR would become just a subset of marketing. About 12% said they expected PR to play a dominant role over marketing, while just 7% of agency professionals and 12% of in-house practitioners said they expected PR to be a distinct and separate function.

The survey was expanded to include marketers, who were even more likely to see convergence in the years ahead: 61% say PR will be more closely aligned with marketing; 20% believe PR will become a subset of marketing; and just 5% think it will be a distinct and separate function.

That matters because while PR agencies expect their firms to grow by a cumulative 30% over the next five years (slightly lower than last year's estimate of 33%), in-house PR people expect to see just 12% growth (down from 13% last year) in their budgets.

The good news for PR agencies is that both in-house communicators (69%) and marketers (67%) cite strategic insights as one of the critical reasons for working with PR agencies, while similar numbers (69% of in-house PR people and 64% of marketers) cite creative thinking.

And large numbers of marketers value public relations agencies for their expertise in specific practice areas (63%), media relations capabilities (62%), digital and social media expertise (60%), measurement and evaluation capabilities (60%), and expertise in reaching diverse audiences (48%). There was significantly less confidence (34%) in the data and analytics capabilities of PR firms.

More interesting, perhaps, were some of the subtle differences between how PR people and marketers see the future. PR people believe that digital storytelling is the most important trend for the future, cited by 88% of respondents. But only 80% of marketers agreed; they were more likely to value social listening (88%) which was cited by 82% of PR people. Marketers were also more likely to see influencer marketing (68% to 64%) and real-time marketing (69% to 62%) as important trends.
I've always believed that PR (and sales) should sit under a marketing and communications umbrella to ensure all activities are seamless and directed to achieve an overall objective. Professional PR people have a very strong skills set - writing, storytelling and media understanding that are very relevant and transferable to content development and social media. Historically, 'influencer marketing' was the domain of PR's specifically in the B2C context. PR has always been a valuable discipline for lobbying, influencing and building brand reputation. I do not believe this has changed, only the media channels have innovated and expanded creating this convergence.
At our meet the specific skill set and the role of professional PR's within the marketing mix was acknowledged. It was widely agreed the important factor was that the communication was relevant and authentic. And, that target audiences were properly segmented for those communications, whether journalists or social media users.
Maybe, it's time for a new set of marketing and communication definitions. I do believe many Professional PRs could do with a more in-depth understanding of strategic marketing to truly understand how a wide range of disciplines and channels should run seamlessly to achieve business objectives. Twenty-five years ago, Advertising Agencies rebranded themselves to call themselves Marketing Agencies, often it was only a rebrand - only time will tell if convergence of PR and Marketing will follow suit, but I'm pretty smug I predicted this back in 2005.
Carolyn Daw, founder The Marketing-PR Company