Dog coats fly off the shelf for charity
Client: Equafleece Ltd
1 October 2019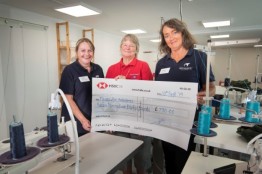 Customers and staff at fleece dog coat manufacturer, Equafleece Ltd based at Coryton near Lydford, have raised £730.00 for Devon Air Ambulance Trust.
Marilyn MacQueen, Devon Air Ambulance Volunteer, accepted the donation on behalf of the emergency medical service from Equafleece Ltd's production manager Sammi Downing and dispatch manager Sandra Townshend.
Equafleece's production manager, Sammi Downing, had the idea of selling off a range of doggy fleece garments in a discontinued colour to raise money for a local charity and prevent the items going to waste.
"Equafleece donated £5 from each sale item via a promotion on social media. Our customers really got behind the idea and we sold out in just 10 days." explains Sammi.
Equafleece supports many different animal charities with their fleece coat and jumper donations and local schools with bags of fleece off cuts for crafting.
Marilyn MacQueen, Devon Air Ambulance Volunteer, thanked Equafleece for choosing the Devon Air Ambulance Trust at a recent visit to Equafleece to see the production of the fleece products.
Tracy Owen, Devon Air Ambulance Fundraising Manager, said "We're delighted to have received this generous donation from Equafleece Ltd. In 2018 it cost £7.5 million to keep the service operational and support from local businesses is so important for our future development. Devon's Air Ambulances are very much an essential part of the community we live in and the service would not be possible without the generous support and donations from the people, businesses and communities in and around Devon."