Develop your personal career plan with a little help from the experts
6 January 2018
Topics: Event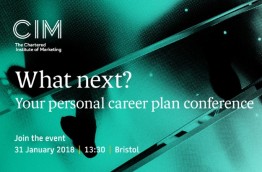 If you are contemplating a career move in 2018, The Chartered Institute of Marketing (CIM), is running a really insightful event 'What's next - your personal career plan' to help you plan and achieve your dream marketing career.
At this engaging and interactive half-day event in Bristol on Wednesday 31 January 2018, you will have the opportunity to meet experts in recruitment and personal branding, and learn techniques to help you identify and plan your own personal career path.
Brian Doidge, CIM South West Regional Chair says; "Many people decide to set themselves new career challenges for the year ahead. This event will help them develop a step-by-step career action plan and provide information on how to achieve their goals."
The speakers and workshop panel, who will reveal their marketing career hints and tips includes Managing Director UK and Ireland for Hays Marketing, Sales and Retail, Clare Kemsley, who will explain what marketing bosses are looking for in prospective employees. Swarez, Artist, Blogger and YouTuber will inspire attendees on how to build their authentic personal brand to help them stand out from the crowd and Kiran Kapur, CEO of Cambridge Marketing College will discuss the importance of vision and impart practical steps to establish one.
Clare Kemsley, UK&I MD Marketing, Sales and Retail at Hays Recruitment explains;
"As the New Year gets underway – marketing employees can expect a prosperous outlook as 69% of marketing employers expect to hire in the next year. Currently, marketing bosses are prioritising those who possess strong digital skills, and competition is also fierce for managers who are able to display strong leadership people development skills, as well as strategic thinking."
Kiran Kapur, CEO of Cambridge Marketing College, will lead a buzz-word and jargon-free discussion about how to create a vision and a plan, and why it matters. Kiran explains; "A journey of 1000 miles may start with a single step, but if you don't set off in the right direction, it will take even longer. If you want help on the way, you'll need to sell the idea".
Swarez, Artist, Blogger and YouTuber adds; "In a world full of noise and fake news there's a bigger opportunity than ever to make yourself stand out and be memorable. My unrehearsed (and uncompromising) seat-of-the-pants talk will show you how being genuine and authentic is by far the best strategy in finding an audience and keeping it."
If you are seeking a new marketing job, planning your career route or looking for career progression, you will find this event at The Business School, UWE Frenchay Campus invaluable. The half day event costs marketing students £15, CIM members £25, non-members £30 and includes afternoon tea and networking opportunities. Book your place