Demelza sponsors new classical concert series at HFC
Client: Demelza Independent Estate Planning
17 January 2017
Topics: Media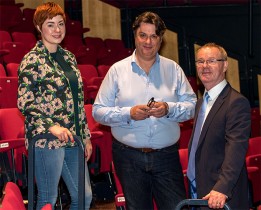 Demelza Independent Estate Planning, part of the Demelza Group, has been announced as the sponsor for the new classical concert series at Hall For Cornwall (HFC).
The seven programme classical series 2015/16 opens with the Bournemouth Symphony Orchestra, together with the brilliant young Bulgarian cellist Michael Petrov, on September 21. Other highlights include the HFC debut of one of Britain's finest pianists Peter Donohoe on November 5 and internationally acclaimed period instrument orchestra, the Academy of Ancient Music, on November 26. The entire new programme, can be found at www.hallforcornwall.co.uk
The Demelza Group, www.thedemelzagroup.co.uk, based at Demelza near St Wenn, consists of Demelza Independent Estate Planning and Demelza Lifestyle Financial Planners and has been providing independent estate planning advice and financial services since 2003. The firm specialises in helping individuals and families across Cornwall protect their assets with wills, trusts and inheritance tax planning services and wealth and pension management.
The company's managing director, Chartered and Certified Financial Planner, Denis Mitchell, explains; "We are delighted to be sponsoring the excellent programme of classical concerts that HFC has lined up over the next ten months. HFC is such an important venue not only for Cornwall, but the South West, and Demelza is honoured to support the classical programme to help ensure that world-class performers continue to appear in Cornwall".
HFC's fundraising administrator, Chelsea Nelson, comments;
"We are delighted that Demelza Independent Estate Planning has decided to support Hall For Cornwall by becoming the Official Sponsor of our International Concert Series 2015-16. The sponsorship package offers a fantastic opportunity for Demelza to market their brand to the classical audience at HFC and is a great example of how local businesses and the creative community in Cornwall can work in partnership. Their support enables us to continue bringing an exceptional programme of classical music to delight audiences across Cornwall and we look forward to working with them over the coming year."
Pictured (LtoR) HFC's fundraising administrator Chelsea Nelson, Julien Boast, director HFC, Demelza Independent Estate Planning managing director Denis Mitchell.