CombiSave is in new packaging - in your local merchant
Client: Teddington Appliance Controls
24 February 2016
Topics: Media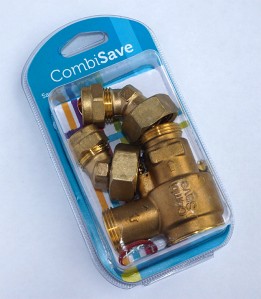 CombiSave the award-winning eco innovation, which reduces the amount of gas and water used in a combination gas boiler's initial heating process - saving householders money, time and reducing CO2 emissions, has been re-launched with new packaging and in a new point of sale unit.
The thermostatically controlled CombiSave valve is simple to install – it takes a professional plumber or heating engineer less than twenty minutes to fit – offering installers great earning potential or additional earnings to routine service visits. Householders can save up to six litres of water each time the tap is turned on from cold - saving an average household up to 30,000* litres of water per year. Plus, savings on gas and a shorter waiting time for water to heat up each time the tap is turned on.
CombiSave was designed in Britain by Furlong Innovations and is manufactured in Cornwall from the finest quality engineered components in de-zincification resistant brass by Teddington Appliance Controls - a global leader in the design, development and manufacture of quality pressure, temperature and flow rate control products.
For further information and to view a video on how simple a CombiSave is to install visit www.combisave.com CombiSave is currently available from all good independent merchants.